Remote Attendees
To connect to the Workshops Zoom Session, you must first have registered as a remote attendant to the conference. (or as an attendee but you finally cannot make it to Rennes)
To then attend the workshops remotely, please register for the Workshop Zoom Session with a valid Zoom account using the link below. (If you do not already have a Zoom account, you will need to create one here.) When registering for the Workshop Zoom Session, please use the same names, surnames and email address as the ones you used when registering for the conference. (Deadline on April 4th, 11pm CET)
https://univ-rennes1-fr.zoom.us/meeting/register/tZEud-irpjMoGdNMHfpe01TakC9GPw8n9ui1
If your workshop registration is up to date and paid, you will receive after validation a new email with your dedicated link to participate in the workshop. Note that your link is strictly personal and should not be shared with others.
Once you are connected to the Zoom session, select the workshop you wish to attend by clicking on the Breakout Rooms button

Then select your workshop in the window popup by clicking on the Join button: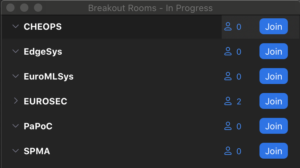 Workshop chairs
Set-up procedure
Please be sure to arrive 30mn before the beginning of your workshop to set up the hybrid session for your workshop. You will need to perform the following steps:
Connect your laptop to the conference center's wifi network (using the credential provided by the registration desk);
Setup and plug the provided webcam to your laptop's USB A port;
For the bigger rooms: connect your laptop via Bluetooth to the provided speaker;
Plug the HDMI cable of the beamer to be able to project slides;
Open Zoom on your laptop and join the indicated meeting. (See above for information on how to connect to the Workshops' Zoom Session.)
Equipment provided on-site in every room
Equipment that you must bring
A laptop

with the most recent version of Zoom installed
with an HDMI port to connect the projector
with a standard USB (type A) port to connect the webcam
General notes
The attendees can freely move between workshop rooms.
Help desk
In case of problem for joining, we will maintain a helpdesk from Tuesday morning at https://rendez-vous.renater.fr/eurosys-ws-helpdesk